Roller Bridge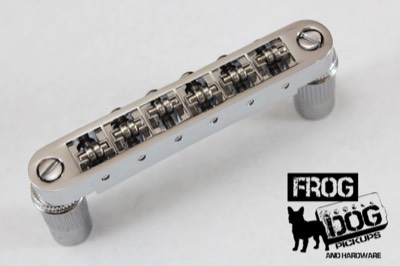 Our Frog Dog Roller Bridge offers two advantages to a traditional fixed bridge design.
1 - it allows your strings to glide across the bridge without picking up nasty burs. 2 - it feels GREAT on your strumming hand! It's perfect for when you're palm muting and won't dig into your palm!
The bridge is chrome and is fitted to replace a standard Tone Pros® or LP Style Bridge. It comes with 11mm bushings and adjustment screws (that fit the bushings).
Tailpiece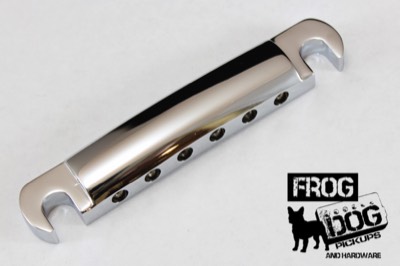 Our Frog Dog Tailpiece should fit just about any replacement tailpiece for a traditional LP style guitar. Its nice weight is just the right balance for our Roller Bridge.
It ships with a free GT4 Lusso Ferrari engine. With 12 cylinders in this tailpiece, you'll be roaring in NO TIME!
I'm just kidding. I don't even know much about cars. I drive a Prius. Go ahead and laugh - but I get 48.7 miles to the gallon…
Pickup Rings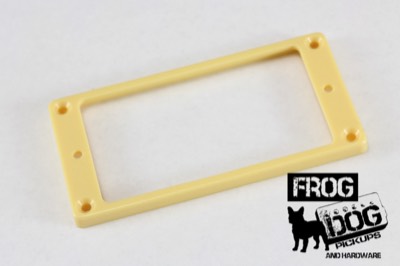 Our Frog Dog Pickup rings come in two different sizes. The front pickup ring is super thin - allowing you to adjust your pickup really low to the body.
Did I mention that it was cream? Well guess what? It's cream! YAY!
The rear pickup is slightly thicker, but not as thick as a traditional LP style.
Backplates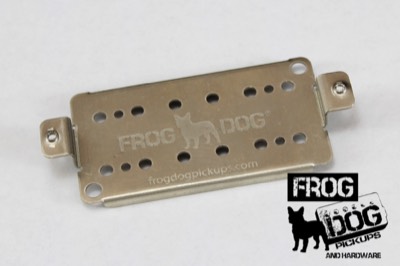 Check out that cute little Frenchie on there! He'll curl right up next to you in your chair while you're building this webpage. Then he'll fart something awful. Dear God - I'm dying here…
Our Frog Dog Humbucker Backplate comes in two different sizes.
Front Back Plate: 50mm
Rear Back Plate: 52mm
Knobs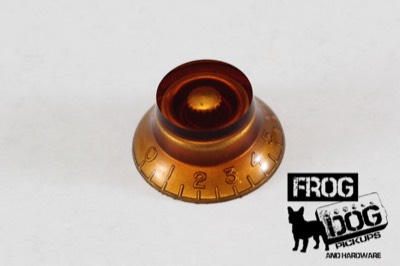 Our Frog Dog Amber Skirt Knob is a traditional style skirt knob with embossed numbers. Feels great to turn it up!
If your bass player gets a set of these, it feels great to turn him down. Seriously, Brian. We've talked about this. You're always too loud.
I feel like I've got to go home now and wash the bass off of me!